PlusBus in city of Aalborg - Denmarks first BRT bus project
Last week the city of Aalborg got Denmarks first BRT bus project – putting 14 electrical solaris buses into service – all of them 24,8 m long. The buses are running on a 12 km long route though the city with 34 bus stops. The passengers seems very happy with the upgrade of the bus service. Adibus has helped PTO Tidebus with the IT solution in the buses, including realtime system, passenger information, voice announcement, video surveillance, automatic speed limitation and our Smart Electrical bus system. The whole solution is managed 24/7 with our backend system AdibusLive. This solution adds to the buses delivered in 2022, so all the 121 city buses are now electrical and zero emission buses.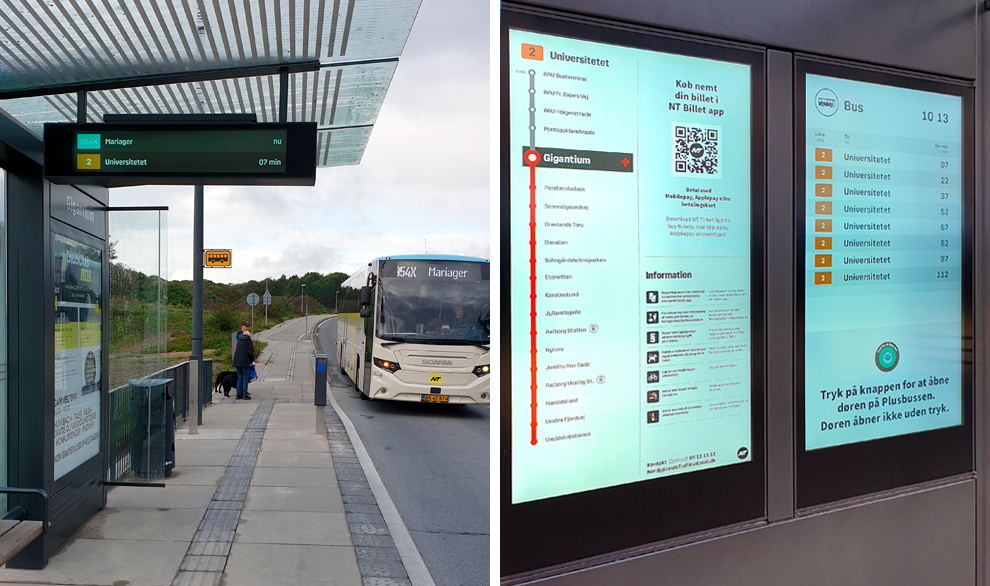 We have also delivered digital screens to Aalborg municipality on all the 34 bus stops – including 55" screens showing realtime information and other information to the bus. Down from the ceiling on each station is 43" screens showing realtime information for the next buses, supported by the opportunity for voice announcement to the passengers.